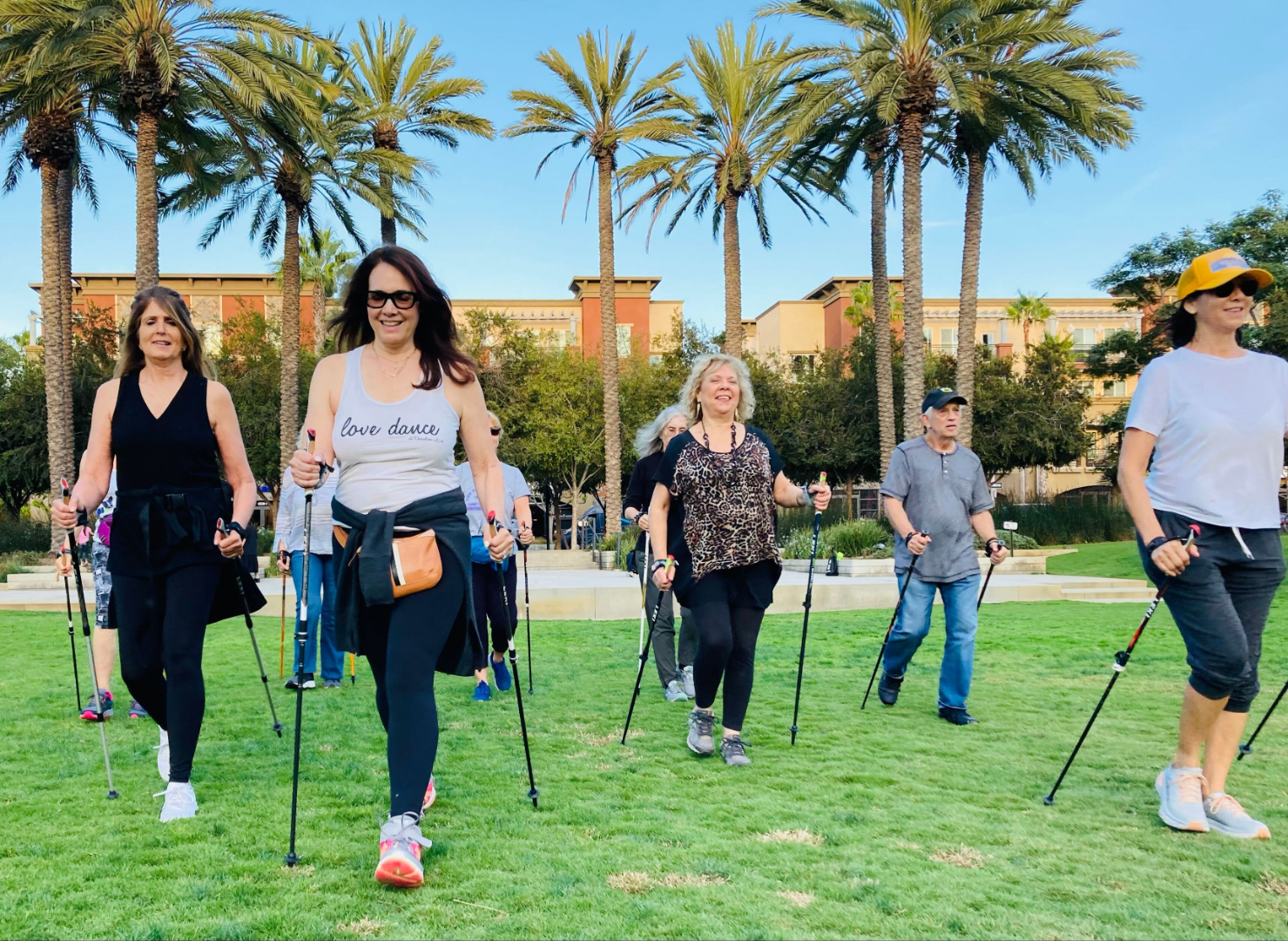 Nordic Walking Benefits
Get into shape by burning up to 46% more calories than regular walking without increased exertion. Nordic Walking takes fitness walking to a new level by adding poles to produce an incredible upper body workout. This workout increases your endurance, strengthens your core, arms, chest, back, buttocks and legs, improves your posture and flexibility and it takes stress off your ankle, knee, and hip joints.
Burn More Calories
Burns 20-46% more calories than regular walking!
Strengthens Upper Body
Nordic Walking poles are a resistance tool engaging the upper body.
Low Impact on Joints
Takes stress off the lower body joints – ankles, knees, hips!
Nordic Walking Classes in Playa Vista, CA
Malin Svensson is the Nordic Walking Guru in North America, and she teaches Nordic Walking classes in Playa Vista only a few times a year. This is a rare opportunity to learn from her in person. Make sure to sign up as soon as possible – she only accepts max 20 participants per class.
What does a Nordic Walking class look like?
Bring your own Nordic Walking poles or come earlier to get fitted into poles provided for the class. Be courteous to all participants and arrive 15 minutes earlier (4:45pm) so we can start on time at 5pm. Each class is 1 hour long and starts with some walking and Basic Nordic Walking techniques. We apply the techniques as we go for a Nordic Walking Workout around Playa Vista. Everyone will walk at their own pace, but we still stay together as a group. Malin will organize this. She will also give each participant some individual attention to improve their techniques. As we return to the meeting place, we end the session with some static stretches.
Two Options to Purchase the Nordic Walking Classes
1. Package of all 4 Nordic Walking Classes:
You can purchase all 4 classes for $99 and save $20. There will be no make-up classes available in case you were to miss one of the classes. Your registration is transferable to another person for the same day.
Package of all 4 Nordic Walking Classes
No Make-up Classes are Available
Class Time: 5:00pm - 6:00pm
Wednesdays October 4-25, 2023
$99
4 Nordic Walking Classes
5:00 pm to 6:00 pm
If you need to borrow Nordic Walking poles, you can add them at checkout.
The poles are FREE to borrow, disregard the terminology on the invoice.
Buy Now
2. Single Nordic Walking Classes
You can purchase 1 class for $30. Due to the limited number of participants (max 20) there will be no refund. This includes injuries or sickness. However, if you can't make it, you can give away the class to a friend or family member. Make sure they have all the information they need.
Single Nordic Walking Classes
Only $30 per Class
No Make-up Classes are Available
Class Time: 5:00pm - 6:00pm
Nordic Walking Class Details
Time:
4:45 pm to fit for Nordic Walking Poles
5:00 pm – 6:00 pm Nordic Walking Class
Dates:
Wednesday, October 4, 2023

Wednesday, October 11, 2023

Wednesday, October 18, 2023

Wednesday, October 25, 2023
Cost: $99 for all 4 classes or $30 per class
Where: The Resort Playa Vista, 12852 Runway Rd., Playa Vista, CA 90094
Meeting Spot: We meet outside The Resort in the grassy area in the park called The Pointe.
Parking: Residential parking. Arrive early to find parking.
Public Bathrooms: There are bathrooms in Concert Park. Make sure to stop by there prior to arriving at class. Address: 13001 Pacific Promenade, Playa Vista, CA 90094
Nordic Walking Poles: Complementary poles will be provided if needed. You are responsible to bring wipes to wipe them off before and after usage. You can purchase recommended Nordic Walking poles in our Nordic Body Store.
No Refund: Due to the limited space of only 20 people, there will be no refund. Your registration is transferable to another person on the same day.
What to wear: Comfortable walking shoes/sneakers and comfortable clothes appropriate for walking and the weather. The class will happen come rain or shine. Dress according to the weather.
What to bring: Your hands need to be free! You will hold on to one pole in each hand. A waist belt with a water bottle is recommended. Keep the car key, ID, and money in a zipped pocket. Hat and sunscreen if needed.
"New way of exercising that gets me outside!"
"Great way to spend time with your partner and live long together."
"I burn more calories and increase my muscle strength."
Increase your speed, burn more calories and avoid injuries
"From afar, Nordic Walking looks pretty intuitive, but you'd be surprised at how refining your technique really helps you realize the most benefit out of it. Malin talks you through all the finer points of finessing your technique to increase your speed, burn more calories and avoid injury."
Jody Gittleman, Graphic Artist
"A great full body workout!"
"Feeling great and my hip is not sore."
"I feel strong and powerful!"
Stomach fat decreased, posture improved, and
core strength increased
"Malin's personalized instruction and attention to my walking form has been invaluable and something I could not have achieved on my own. I notice my stomach fat disappearing and my posture improving as I feel my core muscles strengthening, all after my first week of Nordic walking."
Barbara Powers, Writer
"I got to know my neighborhood!"
"The most FUN kind of exercise I have ever done in my life."
"Malin is a fabulous teacher!"
Newlyweds fall in love with Nordic Walking
"Malin, thanks for the Introduction to Nordic Walking. Not only was it informative, but it really did get me excited about doing Nordic Walking. I was 50/50 before – now I'm just about 100%. Very surprising how different and how much better I felt doing this than just regular walking! I walk about 2 miles or more every night, but after today's class, even for the short distance, my whole body is sore, mainly my arms and shoulders – which is a good thing. It just proves that this is a true total body workout, without the need for hundreds of dollars worth of equipment. Nordic Walking might be tough to get into at first, in terms of style and image, but once you try Nordic Walking and feel the benefits one quickly gets over that because Nordic Walking is probably the best workout possible. As far as the technique, what really helped most was timing. Walking in rhythm might seem natural, but…well, I was surprised how Nordic Walking helped my body feel more in sync."
Matt Misetich, Executive Producer
"My back and arm muscles work more compared to just hiking or walking."
"Using the poles seemed automatic, I didn't have to think about it!"
"Thank you Malin for giving me my posture back."
Nordic Walking strengthens your muscles without joint pain
"We (my sister, my brother in-law and me) have been taking the Nordic Walking class by Malin for the past couple of months and I feel that my body is changing and getting stronger all the time. I have done more than half a dozen half-marathons and the last one only 8 months ago, but this exercise has really strengthened my muscles – without joint pain! Malin is an inspirational instructor who is very passionate about her work and it shows every day. She is determined to make sure each and everyone has a perfect posture and technique to get the best benefits from the exercise. We hope to continue with our training with Malin and Nordic Body for a very long time."
Laleh Amaya, Nurse Anesthetist (CRNA)
Nordic Walking weight loss benefit: Down a dress size
"I have fallen in love with this sport (Nordic Walking), think Malin's the best, and have achieved so many benefits including the loss of a dress size! I never anticipated the tone and muscle I've built in my arms and shoulders as well as so many other benefits. Since taking lessons from Malin over 9 months ago, I've Nordic Walked almost every day! At my age I'm thrilled to have found a safe, energizing, fun and attention getting exercise."
Judith Fleisher
Nordic Walking with
Malin Svensson